Etch system for Clean, Strip, and Ash
Entry Level, SV3-25 to SV3-75
There are 8 different models to address various requirement in plasma clean.
The SV3-25 is our most affordable, entry-level plasma cleaner. It's a robust machine that is perfect for small production facilities, research labs, universities or any industry needing a small-scale, affordable plasma solution.
The SV3-25 is fully automated.  A basic plasma cleaner that excels at all types of cleaning and bonding. This unit is the best value you will find in the industry. All of our systems offer extremely consistent and repeatable results.

| | |
| --- | --- |
| Features: | |
| Gas Control: | 0-25 cc/min Rotometer with precision Needle valve |
| Chamber: | 8″ deep x 5″ Round.   6061-T6 Aluminum |
| Generator: | 400W,  50  KHZ |
| Dimension: | 14″ x 14.5″ x 18″ |
| Weight: | 52 lbs |
Bench Top, SV3-100 & SV3-200
Available in 3 standard configurations.
Plasma clean / Plasma Etching
Reactive Ion Etching
Convertible to include isotropic and anisotropic processing.  Removable tray
SV3-100 is a complete plasma treatment solution capable of reactive ion etch. Perfect for small, cost-effective production. Full laptop control enables complexity of recipes.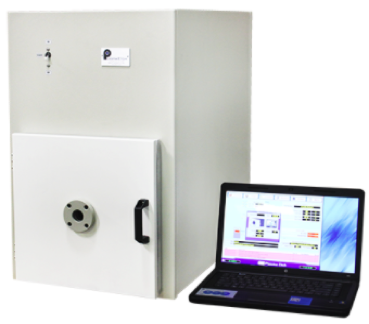 High Volume, BT & STT
SV3-BT-1
Suitable for all general plasma treatment
 
SV3-BT-Tumbler
Designed for bulk load
SV3-STT-1
Designed for wire bonding application
SV3-RR
Designed for Reel-to-Reel System
 
PCB Etching, SV3-MK-II & Megna
SV3-SMK-II
Heavy duty plasma system with a large chamber and up to 24 electrode shelves.
Designed to run with any gas, giving you the most flexibility for future plans.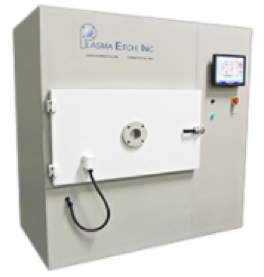 SV3-Magna
The pinnacle of plasma technology. Able to perform plasma etching with no CF4 gas at an unparalleled degree of uniformity. Designed for the most demanding plasma etching application.