MBE provides highly controlled deposition of almost any material up to 3,000° C in the purest UHV environment.

Sources meet the rigorous standard of MBE cleanliness. All sources are thoroughly tested and characterized prior to shipment to ensure quality and longevity.

All evaporators are tested and degassed before shipment with factory test report.
The heating element is constructed from alloy filament supported by PBN ring which provides excellent temperature uniformity within the crucible, high heating efficiency even at the crucible lip. Crucibles are easily replaced.
Standard Cell
For Ga, In, Al, Si, Be, Cu, Ag, Au, CaF2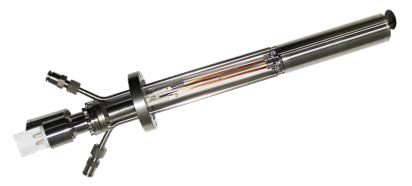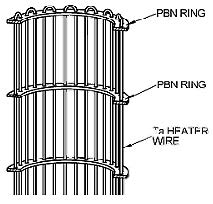 P/N
Flange
Op. Temp.
( °c )
Degas Temp.
( °c )
Stability
( °c )
ECLT275
CF2.75
100-1100
1200
+/- 0.1
ECMT275
CF2.75
300-1400
1500
+/- 0.1
Alkaline Doping Source
Alkaline metal is used widely in electrical doping and preparing cathode films Alkaline metal is used widely in electrical doping and preparing cathode films. However the chemical property of alkaline metal is so active that makes it impossible to load pure alkaline metal into effusion cell without the application for glove box or vacuum transfer box.

An alternative way is to use the Alkali Metal Dispenser (AMD). It is an efficient and safe method of depositing ultra-pure alkali metal such as Cesium, Potassium, Sodium, Rubidium and Lithium. AMD keeps that alkali metal pure in the form of a stable salt combined with a getter material. The presence of the getter guarantees an ultra-pure environment during the alkali evaporation.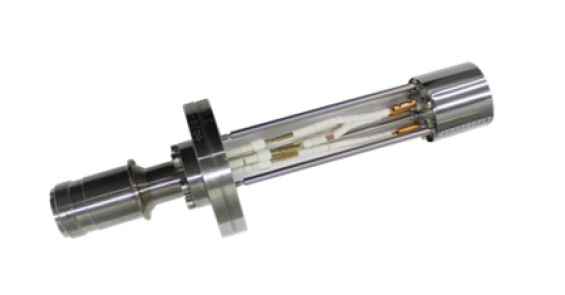 Specification
Model
AMEC38
Flange
DN40 CF (OD 2.75″)
Heating System
Resistance Heating
Source Materials
3 pcs of SAES Alkali Metal Dispensers
(X/NF/xx/12/FT10+10
Max. Working Current
7.5A by default
Depending on the selected source type
Required Vacuum Conditions
1E-6 mbar to UHV
Max. Bake Out Temp
200°C
Note
X: specific Alkali Metal Name
XX: normal yeild provided by SAES
For more details, please refer to SAES AMD Brochure
High Temperature Cell, EC-HT
Using ceramic supported heating is not valid here due to the following reasons:

1) Ceramic is semiconducting at such high temperature, thus insulating is difficult
2) PBN decomposes significantly above 1500° C

To overcome these issues, self-standing filament is manufactured with free-standing , thick tungsten wire. A clean, UHV condition is achievable at over 2000° C . Internal water cooling stage is included to prevent the flange being heated as well as cooling the electrode during max. power. External water cooling shroud is always recommended to prevent the chamber from heating up.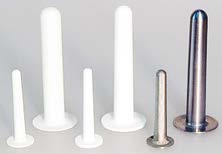 PN
Crucible
Size
Flange
Op. temp.
( °c )
Degas Temp.
( °c )
Stability
( °c )
ECHT275
10cc
CF2.75
1000-1800
1900
+/- 0.1
ECMT275
10cc
CF2.75
1000-2000
2050
+/-0.1
**Both TC type is C type.
** Option: Cooling, Shutter
Dual-Zone Effusion Cell
Designed for high vapor pressure materials which form atom clusters and need extra heating to crack into small pieces. Examples are Se, Te, As, Mg, Sb, CdTe, ZnTe, etc. Two independent filaments are used; bottom one is for evaporation (up to 1000° C) and upper one is for thermal cracking (up to 1400° C)
The crucible is made of PBN with capacity of 50 cc. At the orifice, an insert piece (made of PBN, PG, or Ta) is installed for cracking. There is a tiny hole in the center of the insert lining. By changing the diameter of the hole, the flux distribution and intensity could be controlled. 23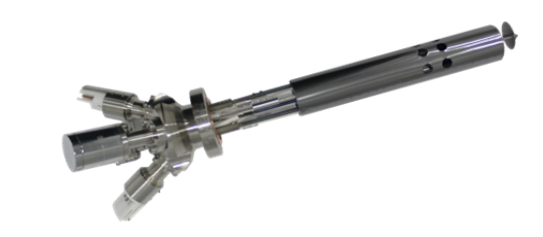 PN
Crucible
Size
Flange
Op. temp.
( °c )
Degas Temp.
( °c )
Thermocouple


Stability
( °c )
ECHT275
10cc
CF2.75
1000-1800
1900
C type
+/- 0.1
ECMT275
10cc
CF2.75
1000-2000
2050
K type
+/- 0.1
** For Cd, Mg, Zn, Te, Sr, Yb, Ca, CdTe, ZnTe, Bi, Pb, etc
** Shutter: Manual
** Bakeout Temperature: 250 °c
**Heating System: Radiation heating, PBN supported Tantalum filament
Reference