While E-beam can be used for production where multiple substrates are coated simultaneously. Effusion cell is used for single substrate. In both cases, the target material is heated by either hot filament or an e-gun.
E-beam can go up to 3,000 degree Celsius . OUr beam is shaped and directed towards the target at exactly 90 incident angle. This is critical in the performance of an e-beam system.
When deposit metal onto substrate, DC power is used. When deposit dielectric material, F power and matching network is used.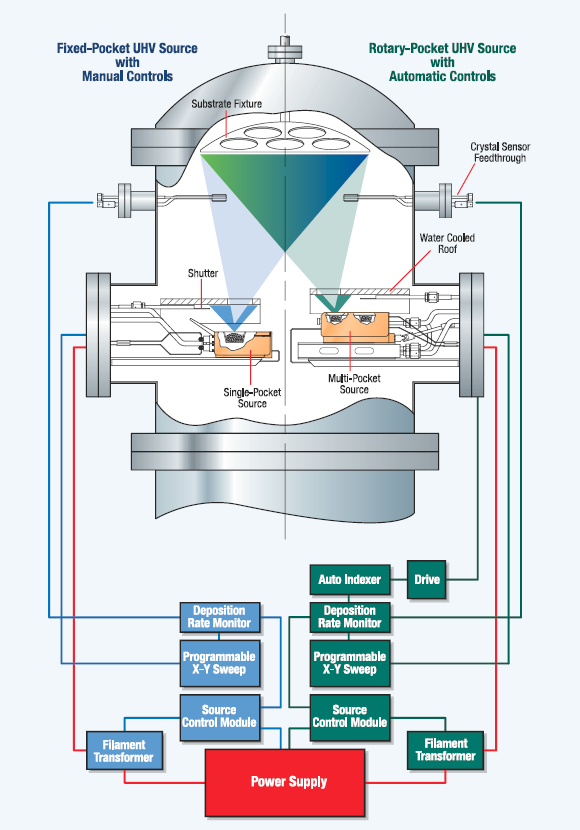 RF Applications:
Nitride and Oxide are dielectric materials.
Optoelectronics (LED…)
Super conductor
PV, RF devices
Hi bandgap semi
Optical Nitrogen doping: Photovoltics (CdTe…) Oxygen doping: III-V materials
Available control modules:
RF generator
Ion deflection
Plasma monitor/diagnostics/Flux control
Ion extraction grid for ion beam assisted growth
Matching network auto tune
Gas handling and control
E-Beam & Sputtering system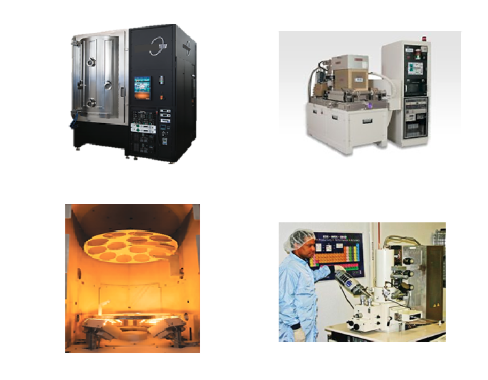 Features and Benefits:
Chamber size up to 40″ diameter x 60″ high
Up to 8 target materials
Co-evaporation
PC/ PLC architecture
Rotating/ Tilt substrate holder
16kW IR heater
Automatic or manual operation
Process Optimization
Higher deposition rates
Thickness uniformity optimization
Stoichiometry uniformity control
Process chamber configuration
Standard settings for many app.