The VP series pumps are rugged mechanical pumps with speeds ranging from 8 to 300 m3/hr (5 to 178 CFM.) Compact and quiet, they feature advance lubrication circuits, highly reliable to suit specific applications.
A built in suck back valve isolates the pump from the process during power interruptions and keeps oil out of your system. Vane pumps has become an industry's standard choice for laboratory and light industrial use. KNown for its rapid pmping and ability to handle vapor, vane pumps are designed for reliable long term operations. Single phase motors are equiped with thermal overload protection at no extra charge.
Distinguished bu high pumping speed even in low pressure ranges, it does not require regular maintenance other than oil changes at service intervals. Shipping includes: 1 liter of oil, KF25 center ring and O-ring. Supplied at no extra charge. Fomblin oil, if required, must be purchased separately for PFPE pumps.
Application:

electron microscopy
Backing to turbo pump
Vacuum oven and furnace
Load-lock and transfer chamber
Thin Film coating
Refrigeration and freeze drying
Vacuum brazing
Oven glove box
Metrology and analytical
Medical instrument
Automotive
Gas bottle filling
Reliable system with anti- suck-back protection
Every pump has a protection device to prevent oil and air suck back into the vacuum system if the pump stops while under vacuum. A variety of protection devices are used depending on the pump size and cost, but emphasis is always placed on reliability and simplicity. when you use gas ballast on the pump, you must use a solenoid operated gas ballast control valve to prevent air suck-back.
The pump incorporates positive pressure oil lubrication system to ensure correct lubrication to prevent oil starvation with high gas loads. This oil lubrication level in the reservoir is less critical than other pump design.
Electric motor option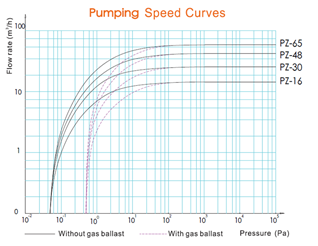 Accessories:
*Trap – minimize back streaming of oil vapor to vacuum chamber during power failure reservor
*Oil Mist Eliminator – keep oil mist off the exhaust port and recirculate back to reservoir
*Angle valve – to keep pump at high vacuum when chamber is vented for service