Stainless Steel, GVR series
GVRM: Manual Gate valve
GVRP: Pneumatic Gate Valve
All stainless steel gate valves feature low maintenance, vibration and low particles GVRP valves are plug-in compatible with any standard valves; easily replace valves in the field. Valve body is vacuum brazed to give clean & long lasting performance.
The body and all major internal components of our stainless steel valves are vacuum furnace brazed in-house. This eliminates the possibility of virtual leaks and minimizes body distortion found in conventionally welded or cast valves.
Each step in the manufacturing process is quality controlled. New components and products are tested in our reliability lab and are subjected to a 100% first article inspection.
Once components are QC verified, they are moved to our clean room for final assembly/test, leak check and packaging.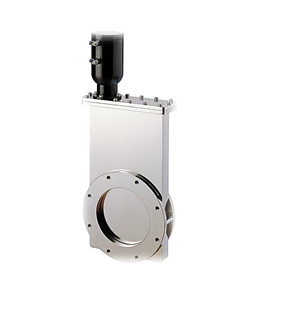 Specification
| | |
| --- | --- |
| Vacuum Range | 1×10-9 Torr |
| Leak test: | 1×10-9 atm cc/sec of He |
| Bake temperature | 150o C |
| Life | 100,000 Cycle |
| Time from open-close | < 1.5 sec |
| Operating temperature | up to 100o C |
| Position Indicator | 28 VDC or 115 VAC |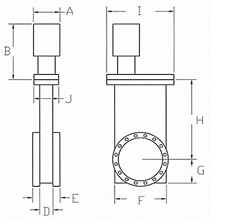 Available size: 16mm to 500mm

3-Position Gate Valve is available.
Designed for use in etching, CVD or process that requires pressure control. When used in conjunction with upstream mass flow controllers, this valve has exceptional pressure control capability.
May also be utilized to smooth the transition from rough to high vacuum. Two solenoids and an air pressure regulator are used to achieve the three positions of fully open, fully closed, and an adjustable third position.
Aluminum, GVA series
GVAM: Manual valve
GVAP: Pneumatic Valve

Truly High Quality Aluminum Gate Valve where the body is machined from
a solid block, resulting in better rigidity and strength. Single axis design
is highly reliable and cost effective.

Features:
Chlorine resistant
Lower H2 outgassing
Highly reliable
Low particles
KF, CF, ISO, ANSI Flange



Specification:
| | |
| --- | --- |
| Vacuum range | 8×10-8 Torr |
| Leak test | 1×10-9 atm cc/sec of He |
| Bake temperature | 120o C |
| Life | 250,000 Cycle |
| Time from open-close | < 1.5 sec |
| Operating temperature | up to 100 degree C |
| Position Indicator | 28 VDC, or 115VAC |
| Air pressure | 82 psig |
| Differential pressure at opening | < 30 mbar |
| Body & mechanism material | 6061-T6 AL |
| Shaft material | DN40-80AL/DN100-500 304SS |
| Carriage | 6061-T6 AL /Peek |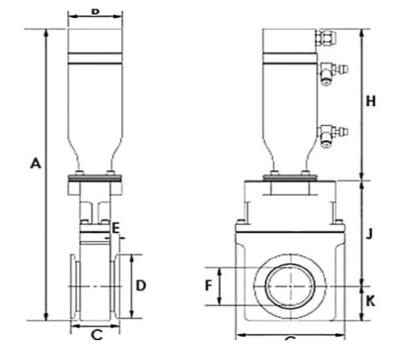 KF flange: 40-50mm
ISO-K flange: 63-160mm
ISO-F flange: 200-630mm

Manual: size from 40mm -160mm
Pneumatic size from 40mm-630mm